Unidades de Investigación / Research Groups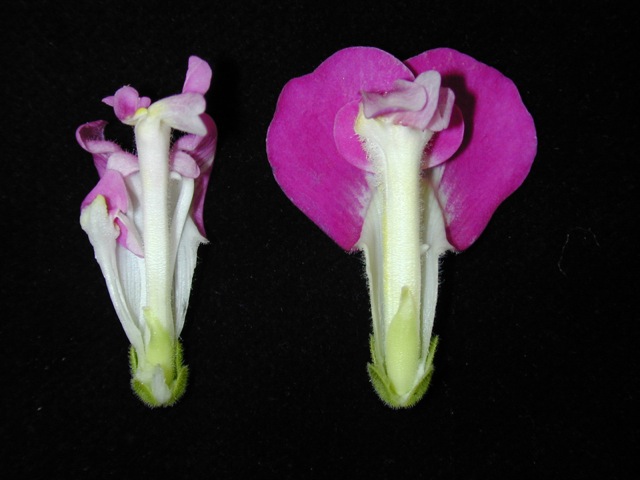 UNIDAD DE GENÉTICA MOLECULAR
La Unidad de Genética Molecular estudia el desarrollo floral. En los últimos años y a raíz de nuestros resultados de investigación, hemos centrado el esfuerzo en dilucidar la regulación por parte del reloj circadiano de la emisión de volátiles florales. También estamos explorando los efectos de las mutaciones de identidad de órgano sobre este carácter de importancia industrial.
Responsable:
• Prof. Dr. Julia Weiss
Investigador:
• Prof. Dr. Marcos Egea Gutiérrez-Cortines
Doctorandos y Estudiantes de Master:
• María Manchado Rojo
• Marta Pawluczyck
• Raquel Alcantud Rodríguez
• María Victoria Ruíz Hernández
• Marta Terry López
Publicaciones seleccionadas:
• Egea-Cortines, M., Ruíz-Ramón, F., Weiss, J. 2013. Circadian regulation of horticultural traits: integration of environmental signals in plants. In J. Janick (Ed.) Horticultural Reviews, 41. Wiley. 2. Nº de páginas: 41, 1-46; ISBN: 978-1-118-70737-1.
• Mallona, I., Egea-Cortines, M., Weiss, J. 2011. Conserved and divergent rhythms of CAM-related and core clock gene expression in the cactus Opuntia ficus-indica. Plant Physiology, 156, 1978–1989.
• Mallona, I., Weiss, J., Egea-Cortines, M. 2011. pcrEfficiency: a Web tool for PCR amplification efficiency prediction. BMC bioinformatics, 12, 404. Manchado-Rojo, M., Delgado-Benarroch, L., Roca, M. J., Weiss, J., Egea-Cortines, M. 2012. Quantitative levels of Deficiens and Globosa during late petal development show a complex transcriptional network topology of B function. The Plant Journal : for cell and molecular biology, 72(2), 294–307.
• Marta Pawluczyk, Julia Weiss, Matthew G. Links, Mikel Egaña Aranguren, Mark D. Wilkinson, Marcos Egea-Cortines 2015. Quantitiative evaluation of bias in PCR. Anal Bioanal Chem 407:1841-1848 Manchado-Rojo, M., Weiss, J. and Egea-Cortines, M. 2014. Validation of Aintegumenta as a gene to modify floral size in ornamental plants. Plant Biotechnol J. 12, 1053-1065
• Navarro, P. J., Fernández, C., Weiss, J., Egea-Cortines, M. 2012. Development of a configurable growth chamber with a vision system to study circadian rhythm in plants. Sensors, 12(11), 15356–15375.
Proyectos vigentes:
• Control genético y fisiológico sobre el desarrollo del pétalo y la síntesis de volatiles florales. Proyecto BFU 2013-45148-R. Investigador principal: Marcos Egea Gutiérrez-Cortines (UPCT)
• Determinación del control de la emisión de volátiles florales por el bucle nocturno del reloj circadiano en Petunia. Proyecto Fundación Seneca 19398/PI/14 Investigador principal: Marcos Egea Gutiérrez-Cortines (UPCT)
• EUROLEGUME (Enhancing of legumes growing in Europe through sustainable cropping for proteína suplí for food and feed). Unión Europea FP7-613781. Programa: 7th Research Framework Programme of the European Union. Investigador principal UPCT: Juan Antonio Fernández